News & Upcoming Events!
Old Technologies, New Embodiments / Queer Science: On Virtual Touching
Remote Intervention: A Symposium in Partnership with the Transformations of the Human Program at the Berggruen Institute
I'm excited to be part of this collaborative project, co-edited by Mashinka Firunts Hakopian and Medaya Ocher, in partnership with the Transformations of the Human and Los Angeles Review of Books, and alongside works by Nancy Baker Cahill, Gabrielle Civil, Mashinka Firunts Hakopian, Gelare Khoshgozaran, Lauren Lee McCarthy, Tobias Rees, Rob Reynolds, Tui Shaub, Anuradha Vikram, Mandy Harris Williams, and Meldia Yesayan. For this series, which was assembled at different moments in the pandemic, some preceding the global movement for Black lives and some following it, ToftH and LARB invited us to reflect on a series of questions that ask how can artists and cultural workers respond to present conditions of crisis, as we're all living life suspended onscreen, and as we undergo radical reorientations of "the human"? My contribution is a "slide show" of diagrams and virtual worlds titled, Old Technologies, New Embodiments / Queer Science: On Virtual Touching. The digital symposium will be published on LARB on August 2nd. Please check it out! 👀💥🌈❣️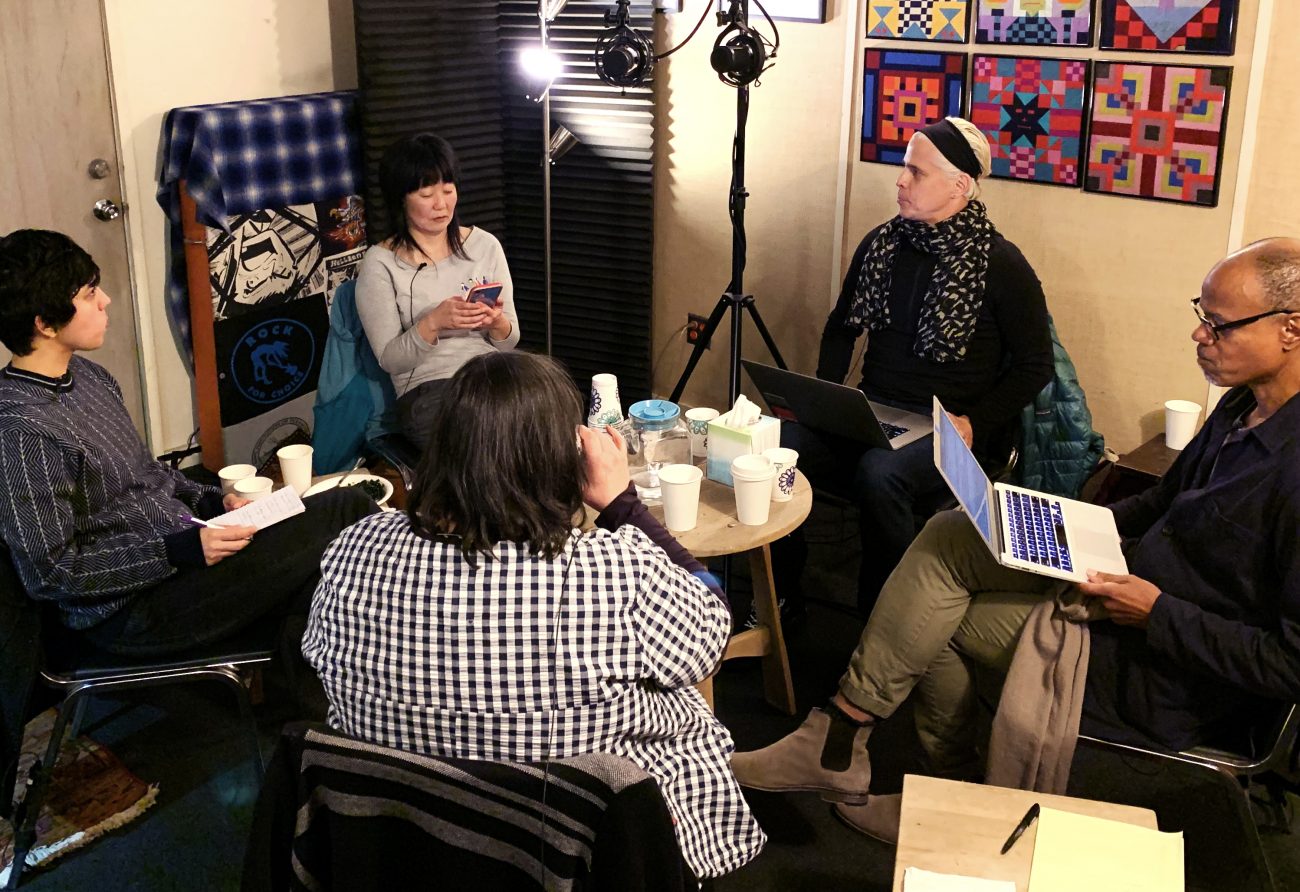 X-TRA's ARTISTS AND RIGHTS Podcast
with Nao Bustamante, Todd Gray, Gelare Khoshgozaran, and Jennifer Moon
Episode 1: Living a Life While Decolonizing the Mind
Episode 2: Superpowers and Guiding Principles: Defining What You Want to Sustain
I did a podcast with a few of my faves 😍😍😍. We recorded this in December 2019 so before Covid and Black liberation revolutions so a bit time warpy but also somewhat prescient. We had so much to say that they split our convo into two episodes 🙃. Thank you Mario Ontiveros for moderating and Shana Lutker for bringing us all together 💞
Episode 1: In this conversation, the artists explore the challenges of sustaining a creative life, from managing the pressures to make a living, to pushing against prevailing models of the "artist" and the for-profit art world, to practicing self-care. The discussion addresses teaching, mentoring, and sharing as ways to enact creative communities and build supportive relationships to effect change.
Episode 2: In this episode, the artists pick up their conversation from last week. They discuss strategies for protecting the time needed to make work. They get into the economic and pedagogical challenges of working with emerging artists in MFA programs. Jennifer Moon asks: "How do we ethically teach sustainability when those same students we are teaching are taking on debt and sustaining us?"
☄️ "For the revolution, stay ready so you don't have to get ready." —Nao Bustamante 🐣✨
Check out more ARTISTS AND RIGHTS episodes, which are rolling out weekly featuring Cog•Nate Collective, Zackary Drucker, Arshia Haq, Vishal Jugdeo, Marcus Kuiland-Nazario, Latipa (Née Michelle Dizon), Ahree Lee, Sandra De La Loza, Elana Mann, Jaklin Romine, Patrick Staff, and Mario Ybarra Jr.!
Do you believe there is something beyond what we know?
If your answer is yes and you have the resources, I'm looking for sponsors 😁! If you are interested in supporting my work, check out this Prezi and contact me to schedule a sponsor presentation 🐣. Let's find that breach in the realm of beliefs TOGETHER 💥🕳🌈❣️
Sign up for the mailing list to keep in the loop with all the things to come!