News & Upcoming Events!
Hello! There's activity happening over at 🌈 The Revolution ☄️ 🔙 Check out The Revolution's News & Events page AND The Revolution School's website 😍❣️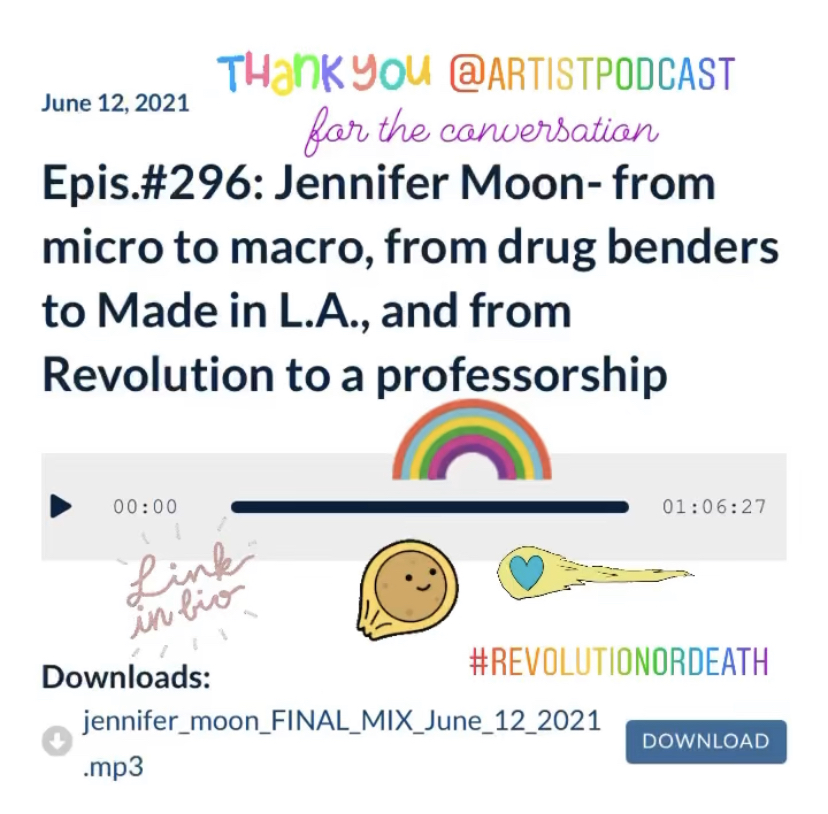 Epis.#296: Jennifer Moon- from micro to macro, from drug benders to Made in L.A., and from Revolution to a professorship
The Conversation Podcast, hosted by Michael Shaw
🙏🏼🤗 Thank you, Michael Shaw, for inviting me to have a conversation with you ❣️🎤📡〰️👽🕹🛸🌈☄️
"Los Angeles artist Jennifer Moon talks about: getting sober after a long string of drug use benders; navigating ambitions for revolution with a traditional artist career path, including her inclusion in the 2014 version of Made in L.A., which led to sales and accolades; how her commercial success – and the connection of an artist she was working for – eventually led to the security of a professorship at Otis, where she attempts to lobby for changes in the power structures; how, before her career broke, she thought she might give up art and become a therapist (she had been doing a lot of mediation with several organizations already; and a bit about her work with Revolution School, including the theory of 'Scrooging' and tackling collective trauma." 🥚🐣🐥🔁
Pride Publics: Words and Actions
Organized by ONE Archives Foundation and curated by Rubén Esparza, June 5—July 1, 2021
🙏🏼✨ Thank you, Rubén Esparza and Umi Hsu, for including me in ONE Archives' Pride Publics: Words and Actions 🌈💫! We were asked to submit a quote we authored paired with a quote from an LGBTQ+ luminary 🌟. My quote is responding to the ever-expansive and ever-inspiring words of José Esteban Muñoz from the intro to his book, Cruising Utopia: The Then and There of Queer Futurity: "Queerness is a structuring and educated mode of desiring that allows us to see and feel beyond the quagmire of the present. The here and now is a prison house. We must strive, in the face of the here and now's totalizing rendering of reality, to think and feel a then and there." 🔀 Let's continue to embrace, mobilize, alchemize our most queer desires 💘 to expand beyond binaries, hierarchies, and capital that keep us locked in a 5% universe ☄️🌈 #revolutionordeath (like omg fr 💯❤️‍🔥) 🔀 "Some will say that all we have are the pleasures of this moment, but we must never settle for that minimal transport; we must dream and enact new and better pleasures, other ways of being in the world, and ultimately new worlds. Queerness is a longing that propels us onward, beyond romances of the negative and toiling in the present. Queerness is that thing that lets us feel that this world is not enough, that indeed something is missing." —José Esteban Muñoz 😍🛸💥🕳🌈🪐
Pride Publics features the following artists, writers, and activists: ¿LA PREGUNTA?, Derrick Austin, Rocío Carlos, Cassils, Rick Castro, Ani Cooney, Patrisse Cullors, Durk Dehner, Angela Divina, Ramy El-Etreby, Raquel Gutierrez, Peter Kalisch, traci kato-kiriyama, Fernando Lopez, Jennifer Moon, Thinh Nguyen, Paul Outlaw, Paul Pescador, Rogelio Ramires, Marval A Rex, Jaklin Romine, Sheree Rose, Irene Suico Soriano, Joey Terrill, Jenevieve Ting, Imani Tolliver, C. Jerome Woods, and Yozmit.
The outdoor exhibit of 28 large-scale, black-and-white posters with hand-applied accent colors will run from June 5—July 1. It will be located along Robertson Boulevard on the east side of the street (686 N Robertson Blvd), close to the intersection of Santa Monica Boulevard in West Hollywood.
This exhibit is supported by the City of West Hollywood's Arts Division as part of the City's One City One Pride LGBTQ Arts Festival (May 22—June 30). More info at www.weho.org/pride or @wehoarts.
Old Technologies, New Embodiments / Queer Science: On Virtual Touching
Remote Intervention: A Symposium in Partnership with the Transformations of the Human Program at the Berggruen Institute
I'm excited to be part of this collaborative project, co-edited by Mashinka Firunts Hakopian and Medaya Ocher, in partnership with the Transformations of the Human and Los Angeles Review of Books, and alongside works by Nancy Baker Cahill, Gabrielle Civil, Mashinka Firunts Hakopian, Gelare Khoshgozaran, Lauren Lee McCarthy, Tobias Rees, Rob Reynolds, Tui Shaub, Anuradha Vikram, Mandy Harris Williams, and Meldia Yesayan. For this series, which was assembled at different moments in the pandemic, some preceding the global movement for Black lives and some following it, ToftH and LARB invited us to reflect on a series of questions that ask how can artists and cultural workers respond to present conditions of crisis, as we're all living life suspended onscreen, and as we undergo radical reorientations of "the human"? My contribution is a "slide show" of diagrams and virtual worlds titled, Old Technologies, New Embodiments / Queer Science: On Virtual Touching. The digital symposium will be published on LARB on August 2nd. Please check it out! 👀💥🌈❣️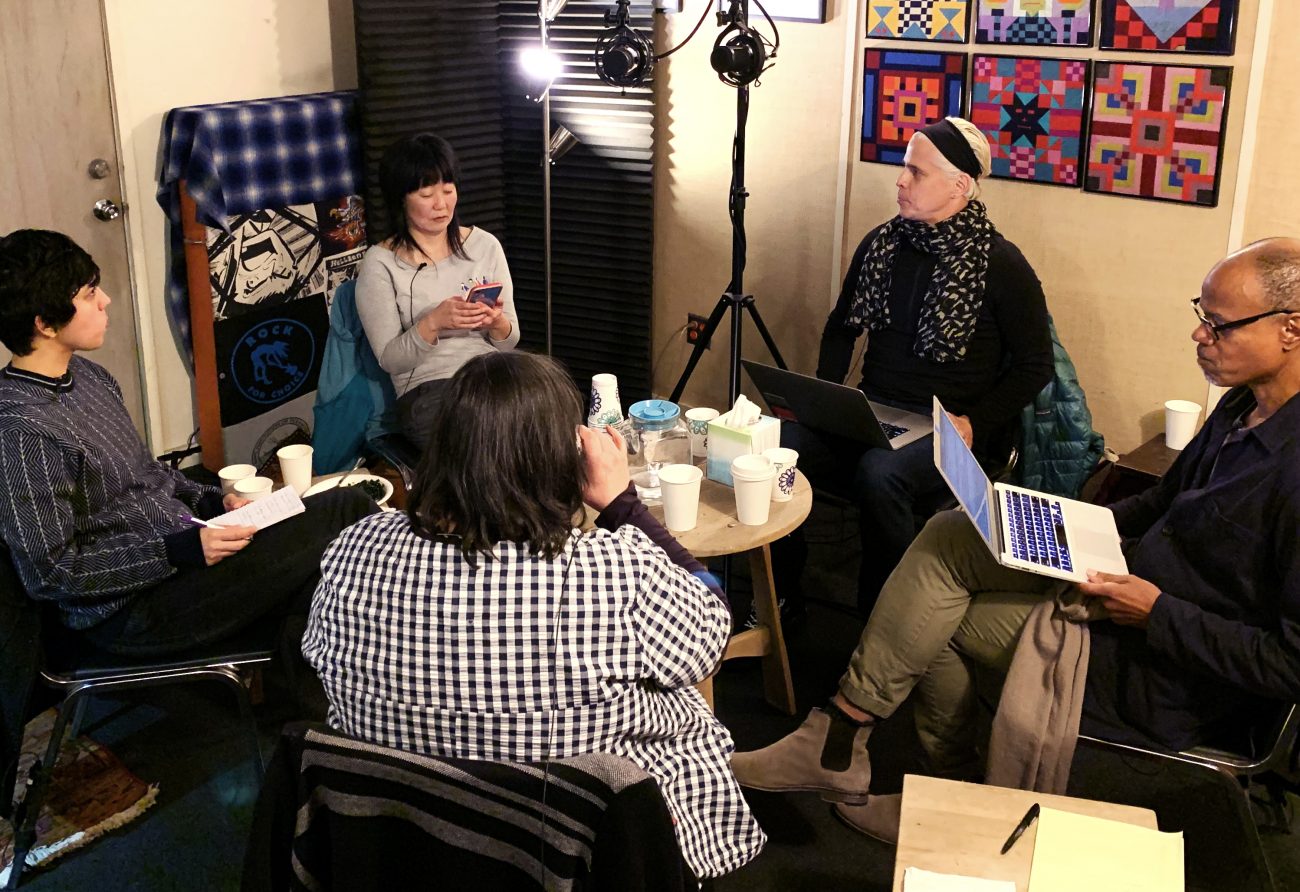 X-TRA's ARTISTS AND RIGHTS Podcast
with Nao Bustamante, Todd Gray, Gelare Khoshgozaran, and Jennifer Moon
Episode 1: Living a Life While Decolonizing the Mind
Episode 2: Superpowers and Guiding Principles: Defining What You Want to Sustain
I did a podcast with a few of my faves 😍😍😍. We recorded this in December 2019 so before Covid and Black liberation revolutions so a bit time warpy but also somewhat prescient. We had so much to say that they split our convo into two episodes 🙃. Thank you Mario Ontiveros for moderating and Shana Lutker for bringing us all together 💞
Episode 1: In this conversation, the artists explore the challenges of sustaining a creative life, from managing the pressures to make a living, to pushing against prevailing models of the "artist" and the for-profit art world, to practicing self-care. The discussion addresses teaching, mentoring, and sharing as ways to enact creative communities and build supportive relationships to effect change.
Episode 2: In this episode, the artists pick up their conversation from last week. They discuss strategies for protecting the time needed to make work. They get into the economic and pedagogical challenges of working with emerging artists in MFA programs. Jennifer Moon asks: "How do we ethically teach sustainability when those same students we are teaching are taking on debt and sustaining us?"
☄️ "For the revolution, stay ready so you don't have to get ready." —Nao Bustamante 🐣✨
Check out more ARTISTS AND RIGHTS episodes, which are rolling out weekly featuring Cog•Nate Collective, Zackary Drucker, Arshia Haq, Vishal Jugdeo, Marcus Kuiland-Nazario, Latipa (Née Michelle Dizon), Ahree Lee, Sandra De La Loza, Elana Mann, Jaklin Romine, Patrick Staff, and Mario Ybarra Jr.!
Do you believe there is something beyond what we know?
If your answer is yes and you have the resources, I'm looking for sponsors 😁! If you are interested in supporting my work, check out this Prezi and contact me to schedule a sponsor presentation 🐣. Let's find that breach in the realm of beliefs TOGETHER 💥🕳🌈❣️
Sign up for the mailing list to keep in the loop with all the things to come!